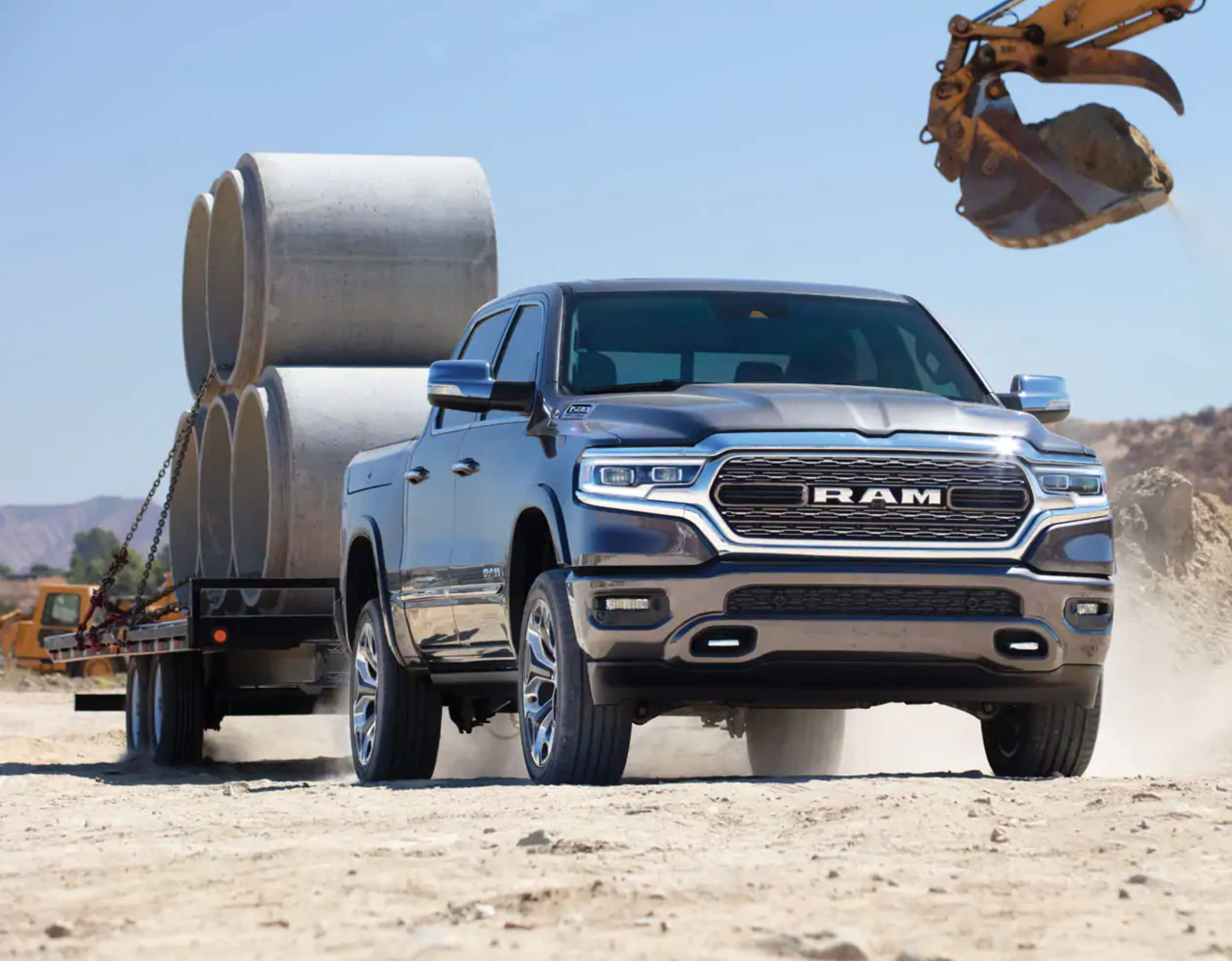 2021 Ram 1500 Truck Boasts New, Intuitive Towing Features
It's been ten years since Ram became its own brand. The ambition to innovate powerfully capable trucks for drivers has led to game-changing developments in performance, safety, towing capabilities, and more. The 2021 Ram 1500 truck has the option to be equipped with an array of new smart towing technologies that provide an enhanced sense of confidence when hooking up to and hauling a trailer. These technologies work together to help ensure a more comfortable towing experience and greater peace of mind. New optional towing features include: 
360° Surround View Camera
Giving Ram drivers a more commanding perspective of their environment, the 360° Surround View Camera system uses five strategically placed cameras to provide a video feed of the area around the truck to the Uconnect touchscreen. This option is available with the Power-Fold Tow Mirrors, as one camera is mounted to each mirror. 
Overall, having a detailed view of the Ram 1500 truck makes the process of lining up the hitch with the trailer less of a hassle, even allowing an individual driver to align everything just right. There is the option to add up to two auxiliary cameras to be mounted to the trailer, providing additional camera angles to the infotainment system. 
Trailer Tire Pressure Monitoring
Stay in the know about the condition of your trailer's tires with Ram's available Trailer Tire Pressure Monitoring. You'll be able to read the tire pressures in real-time. The information is displayed in the truck's digital gauge cluster. Pressure monitoring can be added on up to four trailers and up to 12 tires per trailer. 
Trailer Light Check
Another available trailer diagnostic feature is the Trailer Light Check system that keeps drivers up-to-date on their trailer lights' condition. This tech helps give drivers the confidence that everything is working correctly. Information about the trailer lights' status is also displayed in the digital gauge cluster. 
Blind-Spot Monitoring
While the concept of blind-spot monitoring has been around for a few years, Ram's optional dual wide-band radar sensors-combined with Rear Cross Path Detection-scan blind spots behind the vehicle to indicate when traffic is within proximity of the truck and trailer. Accounting for the truck's position and length of the trailer provides enhanced feedback for the driver when making maneuvering and lane-change decisions.
If you are interested in learning more about the 2021 Ram 1500 or other vehicles in Ram's latest truck lines, reach out to Team Auto Group by calling 712-220-2813. Be sure to take a look at Team's latest new and pre-owned inventory for a diverse selection of cars, trucks, minivans, and SUVs at competitive prices.